You Make The Mess….We Clean It Up!
Easy, Convenient and Affordable….Customers Are LOVING It!
Elevated Large Tubs – No more sore back from bending over
Ramps For Easy Access – Great for Senior & Large Breed Dogs
Shampoo, Towels, Blow Dryers, Brushes all included
First-come, First-serve, No appointment necessary.
Tubs open during regular business hours (last wash starts 30 minutes before closing)
Prices
Dogs Under 20# – $12.99
Dog 21-50# – $15.99
Dogs 51-100# – $18.99
Dogs 101# and up – $21.99
Dog Wash Rules
All dogs must be tethered with tub restraints to prevent them from jumping out.
Dogs must be on leash at all times while in store and wash area.
Please take care of all equipment as if it was your own.
Do not let hair go down the drain, remove hair from trap and place in wastebasket.
Please use dryers only while pet is in the tub.
Leave all tools and shampoo in the tub when you are finished. We will clean up after you.
Put wet towels in the hamper.
Do not leave pet unattended for any reason.
Absolutely NO DOGS WITH FLEAS – In the unfortunate circumstance you find a flea, please notify us immediately to get a flea shampoo and so we can clean properly.
NO SKUNKED DOGS – We have a great product you can use at home to take care of the smell.
Keep your dog under control. Aggressive/disruptive dogs will be asked to leave. You are liable for your dog's actions.
Please be aware that someone may be waiting to use tubs after you. Limit sessions to 30 minutes or less.
All dogs must be current on their vaccinations.
Items damaged by your pet will be purchased by the pet owner.
Children under 16 must be supervised at all times.
If your dog does not do well with other dogs, please call us to schedule an appointment during a quiet time to assure a good environment for your dog.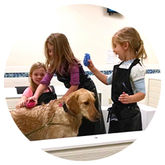 Self-Service Dog Wash
Our self-service dog wash permits you to stand in comfort at the dog washing station, and we provide all the things needed to give your dog a professional wash.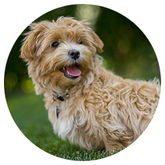 Dog Wash & Grooming
No scheduled time needed. The last bath is 30-minutes prior to closing time. We are open today until 6:00 PM.

Dog Laundry
You take away a spotless dog, and our staff tend to the mess and laundry.
Read what our customers are saying about our pet supply store!
We love our customers from Albert Lea areas around Twin Lakes, Glenville, Conger, Hayward, Manchester, Alden, Northwood, and Lake Mills!
And from Austin areas near Blooming Prairie, Lyle, Rose Creek, Brownsdale, Dexter, Waltham, Mapleview, Adams, and St. Ansgar!
Come visit our pet supply store in Albert Lea, MN specializing in quality food, treats, and supplies for cats and dogs.